Villa de Leyva is Located some 150 kilometres north of Bogota, about four hours by car, passing through stunning savannah landscapes on the way. With its myriad of winding cobbled streets, lined on either side by orange roofed white washed houses, and surrounded by mountains, the village is a charming place to while away a few days. With scarcely a modern building in site and boasting one of the largest cobbled-stonedsquares in South America this village where time stands still is a great place to see a snap shot of historical Colombia preserved in its entirety.
The Hosteria del "Molino de la Mesopotamia" used to be an old mill but has been turned into a hotel packed to bursting with antiques and older than the village itself. You can also visit the birthplace of Antonio Ricaurte and the house in which Antonio Nariño lived. The latter translated the 'Rights of Man' into Spanish and both men became important figures in the Independence Movement.
Just outside Villa de Leyva, there are some wonderful walks and excursions that can be made within half a day or a day. Alternatively you can take in some of the other sites such as visiting ancient giant Fossils, Muiscan observatories and indigenous sites or simply out on horseback to enjoy the enchanting scenery.
,
Contact .
One of our Destination Specialists to begin your tailor-made trip.
Suggested activiy for your trip in Colombia.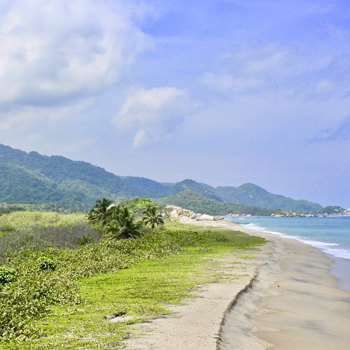 Hike through the Tayrona National Park
During your walk you can look out for some of the Kogi tribes' people who still live in the park, plus the array of flora and fauna that you will pass during your trip. As you walk your guide will be on hand to explain not only the culture and history of the park but also about the wildlife that you may see on the way.

-->

Colombia57 Tours Travel & Logistics SAS