Located approximately 4 and a half hours driver from Cartagena following the coastal road North East Parque Nacional tayronarona is paradise perfected. The park sits at the edge of the Sierra Nevada de Santa Marta mountain range, the highest costal mountain range in the world and stretches over 35 miles from near to Santa Marta in the West to Rio Piedras in the East. The National Park is everything you could want from a picture post card beach location. Palm fringed beaches and golden sand that stretch out in front of you. This tropical beach paradise has a back drop of lush green rain forest. There are numerous paths that link the various beaches and bays, which make perfect walking trails to while away the days in paradise. This is an amazing place to sit back and relax, amble the beach and jungle trails and spot the local wildlife.
Although the sea can be choppy in parts there are several swimming locations to cool down from the tropical heat. For photographers the area is divine with plenty of fantastic scenery and images to capture. The National park was once home to the indigenous tayronarona Indians and archaeological remains can still be found, the best preserved of these is the Pre-Hispanic village of Pueblito, believed to have been the site of a major tayronarona settlement.
Covering an area of 37,000 acres of which 7,000 correspond to coastal waters, tayronarona Park has a dry tropical climate with temperatures which vary between 59°F and 84°F. The majority of the park is covered by virgin tropical forest and inhabited by over 100 species of mammals, 200 species of birds and 50 species of reptiles. The Paujil, a kind of hen, is often represented in tayronarona gold work and is indigenous to the area, as is the majestic condor which nests in the highest peaks of the Sierra Nevada de Santa Marta. Monkeys can often be seen along the fringes of the beaches, especially around the Ecohabs. This is a place where nature and tourist co-exist.
Contact .
One of our Destination Specialists to begin your tailor-made trip.
Suggested activiy for your trip in Colombia.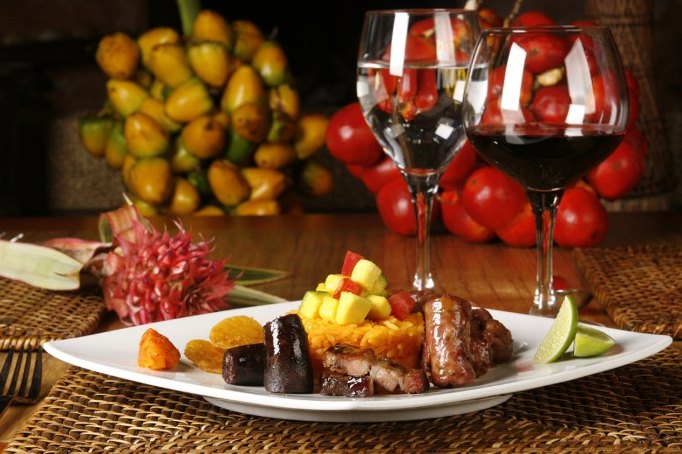 Tradicional & typical food cooking class
You willl be explained what some of the less common fruits etc. are and how they fix into the culinary context of Colombian cuisine. From the down town markets you head to the serenity of a local venue where a local chef will help take the basic ingredients you have bought and transform them in to local delicacy's that you will of course enjoy at the end of this hands-on and interactive cooking experience.

-->

Colombia57 Tours Travel & Logistics SAS